At some point in our lives, all of us have been in a situation where we are tired and bogged down with life. Perhaps you have a large project coming due at school or your place of work. Or you have a huge and potentially life-changing decision that needs to be made. Stresses such as these can and will at some point have an effect on your psyche.
Let me ask a question for you to ponder. Who or what do you turn to in times of need such as stress?
As I got older, I would turn to various vices when my depression or anxiety had reached a tipping point. Alcohol was my main go-to however it was not limited to just drinking. I went on this way for many years until the passing of my sister and God's awakening on me. And as I look back over my life, I am thankful that social media was not around. I would be horrified now to look back at the recorded evidence of my early adult life.
For part 2 of my series, let's look at a passage in Matthew, 11:28-30. Jesus had just finished speaking to his disciples after giving them orders to go out and spread the Gospel. He had also addressed some questions about his Divinity and about John the Baptist. And at the conclusion of chapter 11, Jesus turned His eyes towards Heaven in a prayer of Thanksgiving to His Father.
At that time Jesus said, "I praise You, Father, Lord of heaven and earth, because You have hidden these things from the wise and learned and revealed them to infants. Yes, Father, because this was Your good pleasure. All things have been entrusted to Me by My Father. No one knows the Son except the Father, and no one knows the Father except the Son and anyone to whom the Son desires to reveal Him.
Matthew 11:25-27
But let's unpack Matthew 11:28-30 and see what God has to tell us today.
Matthew 11:28
Come to Me, all of you who are weary and burdened, and I will give you rest.
Jesus never tells us to seek out someone else for help. Throughout our history, God has always wanted us to come home. The parable of the prodigal son speaks perfectly of God's desire for us to be restored to Him. Jesus is imploring us here in this passage for us to Come to Him. But who is He seeking to come to Him? Everyone. All! Let's break this verse down further by looking at weary and burdened.
Weary, in this context, is simply the tiredness we have placed on ourselves. For example, I tend to take on many different projects at the same time in my continuing efforts to make people happy. This additional load usually has adverse effects on me both physically and mentally.
However, for burden, Jesus was likely referring to the overt demands being placed on the Jews by the religious leaders. Interestingly enough, those leaders themselves were not adhering to these same directions. (Matthew 23:1-4). Are you tired of the daily stresses? Are you bogged down by people telling you what to do yet they themselves do the exact opposite?
Matthew 11:29
All of you, take up My yoke and learn from Me, because I am gentle and humble in heart, and you will find rest for yourselves. 
Doesn't it seem odd that Jesus would ask us to take on His yoke when we are already tired and encumbered? Well, not really. Let me explain. Taking the full passage into context, ancient Jews would have understood that Jesus was referring to Psalm 55:22:

Cast your burden on the Lord, and He will sustain you; He will never allow the righteous to be shaken. (HCSB)
Additionally, the word yoke (Hebrew: עוֹל, Greek: ζυγός / zygós), found throughout the bible in both the Old and New Testaments, means a sharing of the load or burden. Jesus' usage of the word here would have been very clear to those ancient Jews following Him.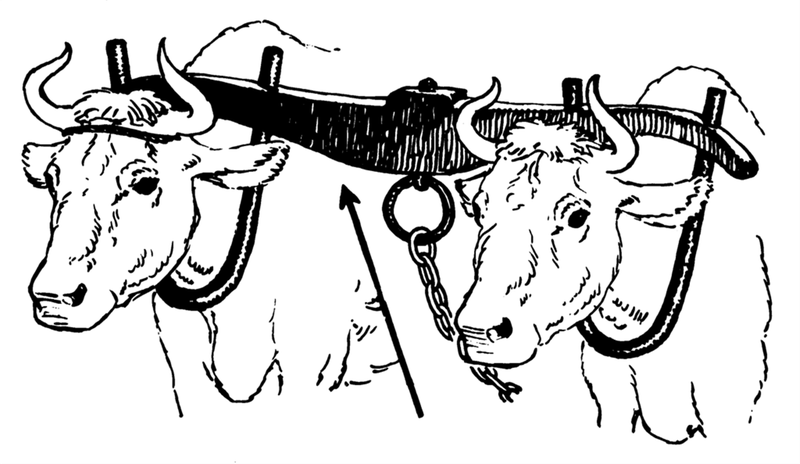 The Pharisees, a group of zealous Jews, believed and taught that the only way to heaven was by following a very long list of religious regulations. They had based their extra-biblical beliefs on the Mosaic Law which consisted of the 10 Commandments along with more than 600 other commandments given to the ancient Jews. Take, for example, "keep the Sabbath holy" from the 10 Commandments. This commandment meant that the Jews were not to perform any work on Saturdays and were to take this as a day of rest.
Now there is nothing at all wrong with this as our bodies do need rest. However, the Pharisees modified the law by adding dozens of 'categories' and 'sub-categories' to what they classified as work. For example, their extra-biblical law included a limit on the number of steps one could take on the Sabbath. There was also a limit to the number of letters one could write on the Sabbath.
Called the Mishnah, the Pharisees' additions to the Mosaic Law sought to decimate the spirit of God's law.
Matthew 11:30
For My yoke is easy and My burden is light.
Finally, Jesus wraps up the passage by telling those ancient Jews, and us today, that His yoke is easy and that His burden is light. The Greek word 'χρηστός' is translated as 'easy' in nearly every English Bible translation However, a more literal English translation of 'χρηστός' would be 'good or useful'. The ancient Jews would have understood His statement to mean that His yoke was good and the burden placed on them would be light. This goes back to the legalist extra-biblical laws being taught by the Pharisees.
Closing Thoughts
I realize I may have just gone a little bit Bible Geek here but this is important. Are you relying on some religious legalism or dogma today? Are you sure, with 100% certainty, that if you were to die today where your soul would awaken tomorrow? I beg you to please reach out to me if you have any questions. I likely will not know the answer but perhaps we can study the scriptures together to find those answers.
;
---
If you made it this far, please consider commenting below, subscribing, and also sharing on your social media sites. Most importantly, I ask for your prayers. I write this weekly blog as an outlet in my fight against depression. However, my hope is that something I write here may help others who may be struggling. If you would like to help with my battle against depression, check out my online Etsy store and affiliate links. Most proceeds are donated to the American Foundation for Suicide Prevention.

If you or someone you know may be contemplating suicide, call the National Suicide Prevention Lifeline at 1-800-273-8255 or by dialing 988. You may also text HOME to 741741 to reach the Crisis Text Line. In emergencies, call 911, or seek care from a local hospital or mental health provider.