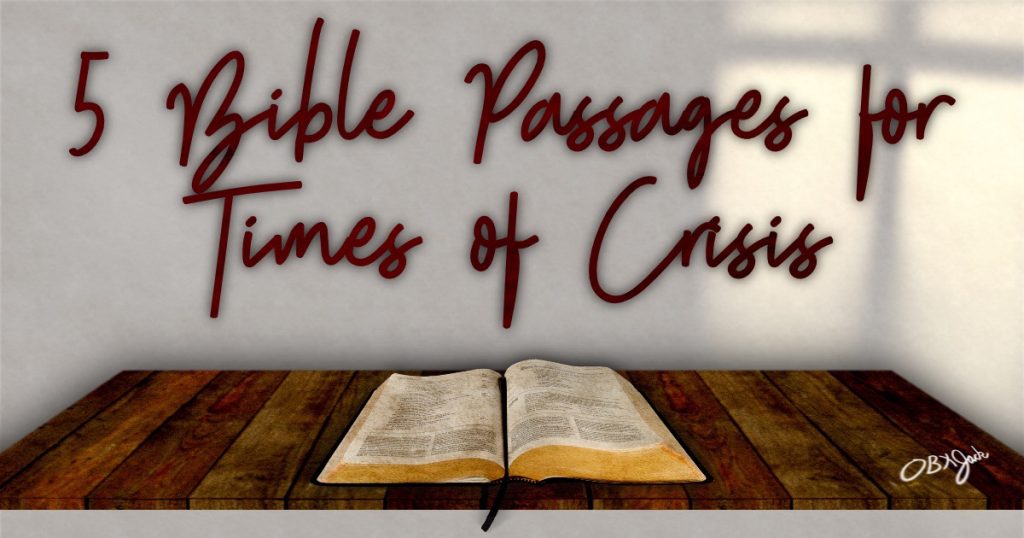 Introduction
It has been almost three years since I experienced the weakest moment of my life in my battle with depression. If you have not yet read the post regarding my suicidal thoughts, I urge you to take a look. Today, I am launching a multi-part series titled "5 Bible Passages for Times of Crisis" where I plan to share some biblical passages which will hopefully be some help to you in times of crisis.
5 – Dealing with Anxiety?
Rejoice in the Lord always. I will say it again: Rejoice! Let your graciousness be known to everyone. The Lord is near. Don't worry about anything, but in everything, through prayer and petition with thanksgiving, let your requests be made known to God. And the peace of God, which surpasses every thought, will guard your hearts and minds in Christ Jesus.

Finally brothers, whatever is true, whatever is honorable, whatever is just, whatever is pure, whatever is lovely, whatever is commendable—if there is any moral excellence and if there is any praise—dwell on these things. Do what you have learned and received and heard and seen in me, and the God of peace will be with you.

Philippians 4:4-9
4 – In Need of Peace and Comfort?
"Come to Me, all of you who are weary and burdened, and I will give you rest. All of you, take up My yoke and learn from Me, because I am gentle and humble in heart, and you will find rest for yourselves. For My yoke is easy and My burden is light."

Matthew 11:28-30 (HCSB)
3. Feeling Upset or Let Down by Others?
"If you love Me, you will keep My commands. And I will ask the Father, and He will give you another Counselor to be with you forever. He is the Spirit of truth. The world is unable to receive Him because it doesn't see Him or know Him. But you do know Him, because He remains with you and will be in you. I will not leave you as orphans; I am coming to you."

John 14:15-18 (HCSB)
---
"Peace I leave with you. My peace I give to you. I do not give to you as the world gives. Your heart must not be troubled or fearful. You have heard Me tell you, 'I am going away and I am coming to you.' If you loved Me, you would have rejoiced that I am going to the Father, because the Father is greater than I. I have told you now before it happens so that when it does happen you may believe. I will not talk with you much longer, because the ruler of the world is coming. He has no power over Me. On the contrary, I am going away so that the world may know that I love the Father. Just as the Father commanded Me, so I do."

John 14:27-31 (HCSB)
2. Feeling Alone with Nowhere to Turn?
The Lord is my shepherd; I shall not want.

He maketh me to lie down in green pastures: he leadeth me beside the still waters.

He restoreth my soul: he leadeth me in the paths of righteousness for his name's sake.

Yea, though I walk through the valley of the shadow of death, I will fear no evil: for thou art with me; thy rod and thy staff they comfort me.

Thou preparest a table before me in the presence of mine enemies: thou anointest my head with oil; my cup runneth over.

Surely goodness and mercy shall follow me all the days of my life: and I will dwell in the house of the Lord for ever.

Psalm 23 (KJV)
1. Feeling Depressed?
The Lord is my light and my salvation—whom should I fear? The Lord is the stronghold of my life—of whom should I be afraid? When evildoers came against me to devour my flesh, my foes and my enemies stumbled and fell. Though an army deploys against me, my heart is not afraid; though a war breaks out against me, still I am confident.

I have asked one thing from the Lord; it is what I desire: to dwell in the house of the Lord all the days of my life, gazing on the beauty of the Lord and seeking Him in His temple. For He will conceal me in His shelter in the day of adversity; He will hide me under the cover of His tent; He will set me high on a rock. Then my head will be high above my enemies around me; I will offer sacrifices in His tent with shouts of joy. I will sing and make music to the Lord.

Lord, hear my voice when I call; be gracious to me and answer me. My heart says this about You, "You are to seek My face." Lord, I will seek Your face. Do not hide Your face from me; do not turn Your servant away in anger. You have been my helper; do not leave me or abandon me, God of my salvation. Even if my father and mother abandon me, the Lord cares for me.

Because of my adversaries, show me Your way, Lord, and lead me on a level path. Do not give me over to the will of my foes, for false witnesses rise up against me, breathing violence.

I am certain that I will see the Lord's goodness in the land of the living. Wait for the Lord; be strong and courageous. Wait for the Lord.

Psalm 27 (HCSB)
I feel it will take at least three blog posts to write everything that I hope to share. I ask for your prayer as I study the verses and dig into God's Word. So come along with me as we learn together.
My hope, as always, is that you will find some value in my writing. If I have touched your heart in any way, I ask that you please comment, like, and share.
;
---
If you made it this far, please consider commenting below, subscribing, and also sharing on your social media sites. Most importantly, I ask for your prayers. I write this weekly blog as an outlet in my fight against depression. However, my hope is that something I write here may help others who may be struggling. If you would like to help with my battle against depression, check out my online Etsy store and affiliate links. Most proceeds are donated to the American Foundation for Suicide Prevention.

If you or someone you know may be contemplating suicide, call the National Suicide Prevention Lifeline at 1-800-273-8255 or by dialing 988. You may also text HOME to 741741 to reach the Crisis Text Line. In emergencies, call 911, or seek care from a local hospital or mental health provider.