In Ephesians 2:1-10, the Apostle Paul reminds us of the transformative power of God's grace. He describes how, before coming to faith in Christ, we were spiritually dead in our sins, living under the control of the world and our own sinful desires. Yet, God, in His great love and mercy, chose to save us through faith in Jesus Christ.

Through Jesus' death and resurrection, those who have believed are raised to new life with Him, no longer slaves to sin but now free to live in the righteousness and holiness of God. Paul emphasizes that our salvation is a gift from God, not a result of our works or our own merit. It is by grace alone that we are saved, and it is for the purpose of living out the good works that God has prepared for us.
And you were dead in your trespasses and sins in which you previously walked according to the ways of this world, according to the ruler who exercises authority over the lower heavens, the spirit now working in the disobedient. We too all previously lived among them in our fleshly desires, carrying out the inclinations of our flesh and thoughts, and we were by nature children under wrath as the others were also. But God, who is rich in mercy, because of His great love that He had for us, made us alive with the Messiah even though we were dead in trespasses. You are saved by grace! Together with Christ Jesus He also raised us up and seated us in the heavens, so that in the coming ages He might display the immeasurable riches of His grace through His kindness to us in Christ Jesus. For you are saved by grace through faith, and this is not from yourselves; it is God's gift-- not from works, so that no one can boast. For we are His creation, created in Christ Jesus for good works, which God prepared ahead of time so that we should walk in them.

- Ephesians 2:1-10 (HCSB)
Applications for our Daily Life: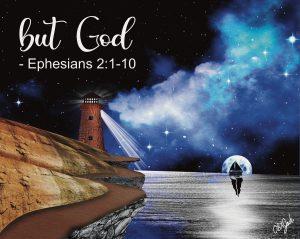 Embracing God's Grace: Recognize that your salvation is not something you can earn or maintain through your own efforts. Instead, humbly accept God's gift of grace and allow it to transform your heart and your life. This will enable you to experience the freedom and joy that comes from a genuine relationship with Jesus Christ.
Living Out Your Faith: As a new creation in Christ, seek ways to live out the good works that God has prepared for you. This might involve serving others, sharing your faith, or pursuing personal growth in areas like prayer, Bible study, or relationships. Remember that God has equipped you with unique gifts and talents to contribute to His kingdom.
Questions to Consider:
How have you experienced God's grace in your life?
In what ways can you live out the good works that God has prepared for you?
Wrapping Up:
As believers, we are saved by God's grace alone and called to live a life of good works prepared for us in Christ. As we embrace this gift and live out our faith, we can experience the fullness of the new life that God offers us.
Interested in Knowing More?
To explore the theme of God's grace further, read Romans 3:21-26 and Titus 3:3-7. These passages emphasize the unmerited favor we receive from God and the transformative power of His grace in our lives.
;
---
If you made it this far, please consider commenting below, subscribing, and also sharing on your social media sites. Most importantly, I ask for your prayers. I write this weekly blog as an outlet in my fight against depression. However, my hope is that something I write here may help others who may be struggling. If you would like to help with my battle against depression, check out my online Etsy store. Most proceeds are donated to the American Foundation for Suicide Prevention.

If you or someone you know may be contemplating suicide, call the National Suicide Prevention Lifeline at 1-800-273-8255 or by dialing 988. You may also text HOME to 741741 to reach the Crisis Text Line. In emergencies, call 911, or seek care from a local hospital or mental health provider.
Scripture quotations marked HCSB are taken from the Holman Christian Standard Bible®, Used by Permission HCSB ©1999,2000,2002,2003,2009 Holman Bible Publishers. Holman Christian Standard Bible®, Holman CSB®, and HCSB® are federally registered trademarks of Holman Bible Publishers.