By reducing our exposure to negative news and social media, we can create a more positive and uplifting environment for ourselves, which will help to conquer negative thoughts and improve our overall well-being. – Jackie Barker
Negative thoughts can be incredibly damaging to one's self-esteem and lead to other mental health issues such as depression and anxiety. In this week's blog, I hope to share some strategies I have used for identifying and challenging negative thoughts. I also hope to share some tips for reframing those thoughts in a more positive light.
---
Realization
One of the first steps in overcoming negative thoughts is to become aware of them. Seems obvious, right? Well, for someone like me who suffered in silence with depression for almost 40 years, realizing was the hardest part. Our "inner critic" can often deliver harsh, self-defeating remarks, so becoming mindful of this is essential in our journey to better mental health. When having a negative thought, write it down in a journal or a personal/private online blog. Recording these negative remarks will help you to better understand their frequency and content.
Once you're conscious of these negative thoughts, it's time to question their validity, to challenge them. Many negative thoughts stem from past experiences or assumptions, not actual reality.
Additionally, keeping a record of them will make it easier to challenge them.
---
Challenging the Thought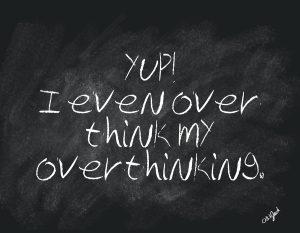 Once you realize the thought is negative, the next step is challenging the authenticity. By questioning the validity of these thoughts, you can see them in a different light. This can help change your perspective. Also, by this examination, you can change your viewpoint and offer a new perspective.
Another strategy for questioning negative thoughts is to challenge the evidence. Ask yourself if there is any evidence to support the negative thought. Is the thought simply a belief or an assumption? If there is no evidence to support the feeling, then it may be time to let it go.
---
Look for the Positive
Along with questioning negative thoughts, it is also vital to reinterpret them in a more optimistic light. In other words, look for the positive. I suspect you are screaming at the screen, "but Jackie, you always focus on the negative". To which I reply, "Has my bride been speaking with you?"
Regardless, this can be done by looking for the positive, or by simply focusing on the things you are grateful for. For example, if you are having negative thoughts about yourself, try to focus on your positive qualities and attributes. This will help to shift your focus away from the negative and towards the positive.
Another way to reframe negative thoughts is to use positive affirmations. Positive affirmations are simple phrases or statements that you repeat to yourself in order to counteract negative thoughts. For example, if you are having negative thoughts about your ability to succeed, you might repeat the affirmation "With God, I am capable" to yourself.
---
Limit Your Exposure to Negative News and Social Media
Regardless of your political views or beliefs, negative news and social media can have a significant impact on our thoughts and emotions. The constant deluge of negativity can be overwhelming and contribute to feelings of anxiety, depression, and negative self-talk. To overcome negative thoughts, it is essential to limit exposure to these sources of negativity.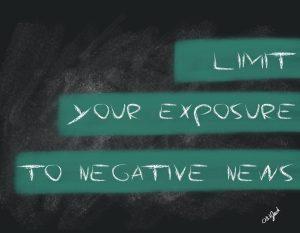 Unfollow or mute accounts that consistently post negative content.
Limit your daily exposure to the news, and choose sources that focus on positive and uplifting stories.
Take a break from social media, or set specific times during the day to check your accounts.
Surround yourself with positive and uplifting people and content. This can include books, movies, music, and social media accounts that focus on positivity and inspiration.
By reducing our exposure to negative news and social media, we can create a more positive and uplifting environment for ourselves, which will help to conquer negative thoughts and improve our overall well-being.
---
Prayer
And finally, the best way to overcome and defeat negative thoughts is to seek comfort, guidance, and strength from God through prayer.
While in prison, Paul wrote a letter to the church in Philippi. Often taken out of context, Philippians 4:10-13 shares a good word of encouragement.
I rejoiced in the Lord greatly that once again you renewed your care for me. You were, in fact, concerned about me but lacked the opportunity to show it. I don't say this out of need, for I have learned to be content in whatever circumstances I am. I know both how to have a little, and I know how to have a lot. In any and all circumstances I have learned the secret of being content—whether well fed or hungry, whether in abundance or in need. I am able to do all things through Him who strengthens me.

Philippians 4:10-13 (HCSB)
In addition, in Paul's second letter to the church in Corinth, he describes how in his weakness, he is strong (in Christ).
But He said to me, "My grace is sufficient for you, for power is perfected in weakness." Therefore, I will most gladly boast all the more about my weaknesses, so that Christ's power may reside in me. So I take pleasure in weaknesses, insults, catastrophes, persecutions, and in pressures, because of Christ. For when I am weak, then I am strong.

2 Corinthians 12:9
---
Closing
In conclusion, negative thoughts can have a powerful impact on our self-esteem and mental health. By recognizing negative thoughts, questioning their validity, looking for a positive perspective, and praying, we can conquer these thoughts and boost our self-worth. Remember that it's a journey. The journey to better mental health is not a 100-yard dash. It is a marathon. Take your time and be patient with yourself. You'll get there.
;
---
If you made it this far, please consider commenting below, subscribing, and also sharing on your social media sites. Most importantly, I ask for your prayers. I write this weekly blog as an outlet in my fight against depression. However, my hope is that something I write here may help others who may be struggling. If you would like to help with my battle against depression, check out my online Etsy store. Most proceeds are donated to the American Foundation for Suicide Prevention.

If you or someone you know may be contemplating suicide, call the National Suicide Prevention Lifeline at 1-800-273-8255 or by dialing 988. You may also text HOME to 741741 to reach the Crisis Text Line. In emergencies, call 911, or seek care from a local hospital or mental health provider.
Scripture quotations marked HCSB are taken from the Holman Christian Standard Bible®, Used by Permission HCSB ©1999,2000,2002,2003,2009 Holman Bible Publishers. Holman Christian Standard Bible®, Holman CSB®, and HCSB® are federally registered trademarks of Holman Bible Publishers.