Church Discipline: Handling Sexual Sin in the Church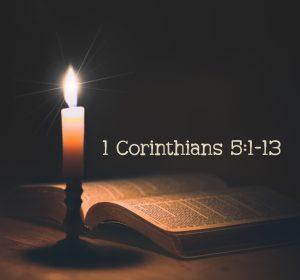 It is widely reported that there is sexual immorality among you, and the kind of sexual immorality that is not even tolerated among the Gentiles--a man is living with his father's wife. And you are inflated with pride, instead of filled with grief so that he who has committed this act might be removed from your congregation. For though I am absent in body but present in spirit, I have already decided about the one who has done this thing as though I were present. When you are assembled in the name of our Lord Jesus with my spirit and with the power of our Lord Jesus, turn that one over to Satan for the destruction of the flesh, so that his spirit may be saved in the Day of the Lord. Your boasting is not good. Don't you know that a little yeast permeates the whole batch of dough? Clean out the old yeast so that you may be a new batch. You are indeed unleavened, for Christ our Passover has been sacrificed. Therefore, let us observe the feast, not with old yeast or with the yeast of malice and evil but with the unleavened bread of sincerity and truth. I wrote to you in a letter not to associate with sexually immoral people. I did not mean the immoral people of this world or the greedy and swindlers or idolaters; otherwise you would have to leave the world. But now I am writing you not to associate with anyone who claims to be a believer who is sexually immoral or greedy, an idolater or verbally abusive, a drunkard or a swindler. Do not even eat with such a person. For what business is it of mine to judge outsiders? Don't you judge those who are inside? But God judges outsiders. Put away the evil person from among yourselves. 

- 1 Corinthians 5:1-13 (HCSB)
In this sobering passage, Paul addresses a grave issue that had crept into the Corinthian church. He confronted not just the act of blatant immorality but the church's reaction, or rather, its lack thereof. The Corinthians, rather than mourning the sin and seeking correction, had become prideful. Their tolerance for such behavior threatened the holiness of the entire community.
Having myself lived through church discipline when my parents both had their bout with infidelity, I know firsthand the pain and suffer brought on the children in the families involved. What use to be normal conversations with my friends at church quickly became very awkward. Paul uses the metaphor of yeast to underscore the danger. Just as a small amount of yeast can permeate an entire batch of dough, a seemingly isolated incident of sin, if left unchecked, can corrupt an entire community. The call to "clean out the old yeast" is a directive for the church to purge itself of sin and embrace the purity that Christ, our Passover lamb, brings.
Paul clarifies his earlier instructions regarding association with immoral people, highlighting the importance of discernment and accountability within the Christian community. While believers are inevitably in the world and surrounded by its ways, they should hold fellow believers to a higher standard of conduct, reflecting the transformative power of the gospel.
Daily Life Application:
Maintain Vigilance: Be alert and proactive in addressing sin and immorality within our own lives, understanding its potential to corrupt and harm.
Embrace Accountability: Foster a culture of accountability within the church, holding each other to the standards of God's Word, and confronting sin with grace and truth.
Live Unleavened: Continually strive to live lives that are free from the "yeast" of sin, exemplifying the purity and holiness of Christ in all we do.
Questions to Ponder:
How am I actively ensuring that I maintain a high standard of holiness in my personal life?
How can the church effectively address issues of sin while still demonstrating love and grace?
Continue Reading:
Galatians 5:9 – Reiteration of the metaphor of yeast and its corrupting influence.
Hebrews 12:1-2 – The call to throw off everything that hinders and the sin that so easily entangles, focusing on Jesus.
Matthew 18:15-20 – Guidelines on addressing a fellow believer who is sinning.
;
---
If you made it this far, please consider commenting below, subscribing, and also sharing on your social media sites. Most importantly, I ask for your prayers. I write this weekly blog as an outlet in my fight against depression. However, my hope is that something I write here may help others who may be struggling. If you would like to help with my battle against depression, check out my online Etsy store. Most proceeds are donated to the American Foundation for Suicide Prevention.

If you or someone you know may be contemplating suicide, call the National Suicide Prevention Lifeline at 1-800-273-8255 or by dialing 988. You may also text HOME to 741741 to reach the Crisis Text Line. In emergencies, call 911, or seek care from a local hospital or mental health provider.
Scripture quotations marked HCSB are taken from the Holman Christian Standard Bible®, Used by Permission HCSB ©1999,2000,2002,2003,2009 Holman Bible Publishers. Holman Christian Standard Bible®, Holman CSB®, and HCSB® are federally registered trademarks of Holman Bible Publishers.