Every Good Thing is a Gift from God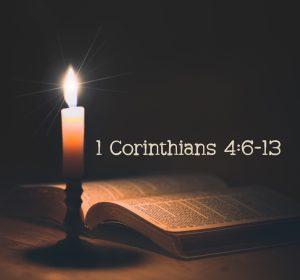 Now, brothers, I have applied these things to myself and Apollos for your benefit, so that you may learn from us the saying: "Nothing beyond what is written." The purpose is that none of you will be inflated with pride in favor of one person over another. For who makes you so superior? What do you have that you didn't receive? If, in fact, you did receive it, why do you boast as if you hadn't received it? You are already full! You are already rich! You have begun to reign as kings without us--and I wish you did reign, so that we could also reign with you! For I think God has displayed us, the apostles, in last place, like men condemned to die: We have become a spectacle to the world and to angels and to men. We are fools for Christ, but you are wise in Christ! We are weak, but you are strong! You are distinguished, but we are dishonored! Up to the present hour we are both hungry and thirsty; we are poorly clothed, roughly treated, homeless; we labor, working with our own hands. When we are reviled, we bless; when we are persecuted, we endure it; when we are slandered, we respond graciously. Even now, we are like the world's garbage, like the dirt everyone scrapes off their sandals. 

- 1 Corinthians 4:6-13 (HCSB)
In this passage, Paul warns the Corinthians about the dangers of pride and arrogance. Despite the many blessings they've received, the Corinthians have allowed these gifts to inflate their egos, losing sight of the fact that all they have is a gift from God. Paul contrasts their attitude with the humility and suffering endured by the apostles. This serves as a timely reminder for us to maintain a posture of humility, recognizing that every good thing we have is a gift from God, and to guard against the trap of pride, which can easily ensnare us when we start to think too highly of ourselves.
This devotion calls us to turn our gaze inward, to examine our lives through the lens of humility. As Paul suggests, genuine spiritual growth only comes when we are willing to grow down in order to grow up, to recognize our inadequacies and limitations, and to constantly yield ourselves to God's will. In this way, we can avoid the pitfalls that ensnared the Corinthian church and journey toward a more mature, humble faith.
Daily Life Application:
Continually give thanks to God for His blessings, recognizing that everything you have is a gift from Him.
Maintain a posture of humility, recognizing your dependence on God.
Guard against the trap of pride, ensuring you don't think too highly of yourself.
Questions to Ponder:
How do you guard against pride in your life?
How can you cultivate a posture of humility in your daily life?
Continue Reading:
Proverbs 16:18: The warning that pride goes before destruction, and a haughty spirit before a fall.
James 4:6-10: The exhortation to humble ourselves before God, with the promise that He will lift us up.
Philippians 2:3-4: The call to do nothing out of selfish ambition or vain conceit, but to consider others better than ourselves.
;
---
If you made it this far, please consider commenting below, subscribing, and also sharing on your social media sites. Most importantly, I ask for your prayers. I write this weekly blog as an outlet in my fight against depression. However, my hope is that something I write here may help others who may be struggling. If you would like to help with my battle against depression, check out my online Etsy store. Most proceeds are donated to the American Foundation for Suicide Prevention.

If you or someone you know may be contemplating suicide, call the National Suicide Prevention Lifeline at 1-800-273-8255 or by dialing 988. You may also text HOME to 741741 to reach the Crisis Text Line. In emergencies, call 911, or seek care from a local hospital or mental health provider.
Scripture quotations marked HCSB are taken from the Holman Christian Standard Bible®, Used by Permission HCSB ©1999,2000,2002,2003,2009 Holman Bible Publishers. Holman Christian Standard Bible®, Holman CSB®, and HCSB® are federally registered trademarks of Holman Bible Publishers.