Building Wisely on the Foundation of Jesus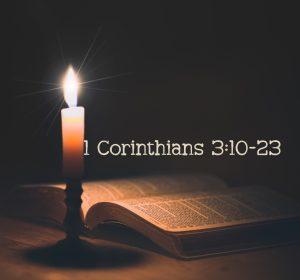 According to God's grace that was given to me, I have laid a foundation as a skilled master builder, and another builds on it. But each one must be careful how he builds on it. For no one can lay any other foundation than what has been laid down. That foundation is Jesus Christ. If anyone builds on that foundation with gold, silver, costly stones, wood, hay, or straw, each one's work will become obvious, for the day will disclose it, because it will be revealed by fire; the fire will test the quality of each one's work. If anyone's work that he has built survives, he will receive a reward. If anyone's work is burned up, it will be lost, but he will be saved; yet it will be like an escape through fire. Don't you yourselves know that you are God's sanctuary and that the Spirit of God lives in you? If anyone destroys God's sanctuary, God will destroy him; for God's sanctuary is holy, and that is what you are. No one should deceive himself. If anyone among you thinks he is wise in this age, he must become foolish so that he can become wise. For the wisdom of this world is foolishness with God, since it is written: He catches the wise in their craftiness; and again, The Lord knows that the reasonings of the wise are meaningless. So no one should boast in human leaders, for everything is yours-- whether Paul or Apollos or Cephas or the world or life or death or things present or things to come--everything is yours, and you belong to Christ, and Christ belongs to God. 

- 1 Corinthians 3:10-23 (HCSB)
Every builder knows the importance of a solid foundation. When you lay the cornerstone for a structure, every subsequent brick or stone depends on that initial placement. In our spiritual lives, the Apostle Paul uses this imagery to remind the Corinthians—and us—of the vital importance of building our lives upon the sure foundation: Jesus Christ.
Imagine a construction site. You can hear the hum of machinery, see the bustling activity of workers, and feel the anticipation of a new structure rising from the ground. Each worker has a role, a purpose, and a specific task. The success of the project, however, hinges on the quality and stability of its foundation. Paul reminds us that in God's grand design, He has laid down a foundation in Jesus Christ. This foundation is unwavering, steadfast, and sure. When we accept Jesus into our lives, we are rooted in this strong foundation. But our responsibility doesn't end there. We are called to build upon this foundation.
What materials are we using as we build our spiritual lives? Paul presents a choice. Gold, silver, and costly stones which can withstand fire, or wood, hay, and straw will be consumed. The fire here is metaphorical, representing trials, challenges, and the final judgment. The quality of our work—how we nurture our relationship with Christ, spread His gospel, and serve others—will be tested.
Our lives resonate with the echo of this divine construction. The choices we make, the values we uphold, the way we treat others, and the doctrines we adhere to are the materials with which we build. If we seek worldly wisdom, prioritize fleeting pleasures, or stray from the teachings of Christ, we're using perishable materials. However, when we seek Godly wisdom, immerse ourselves in scripture, and live out Christ's teachings, we build with imperishable materials.
The passage ends with an understanding that we are God's sanctuary. How we nurture and protect this sanctuary is paramount. Because, in today's culture where wisdom is often measured by worldly achievements, Paul's words ring truer than ever. The wisdom of this age is fleeting and inconsequential in the divine scheme. True wisdom is rooted in the divine, in the teachings of Jesus Christ.
Daily Life Application:
Remember that your actions, teachings, and attitudes contribute to the building up of the church. Strive to ensure they are of good quality, glorifying God.
In all things, remember the foundation is Christ. Keep Him at the center of all you do.
Questions to Ponder:
How are you contributing to the building of God's church? Are your contributions of good quality, able to withstand the test of fire?
How can you keep Christ as the foundation in all you do?
Continue Reading:
Ephesians 2:19-22: Believers as members of God's household, built on the foundation of the apostles and prophets, with Christ as the cornerstone.
2 Timothy 2:19-21: The solid foundation of God and the need to cleanse ourselves to become vessels for honorable use.
1 Peter 2:4-5: Believers as living stones being built up into a spiritual house.
;
---
If you made it this far, please consider commenting below, subscribing, and also sharing on your social media sites. Most importantly, I ask for your prayers. I write this weekly blog as an outlet in my fight against depression. However, my hope is that something I write here may help others who may be struggling. If you would like to help with my battle against depression, check out my online Etsy store. Most proceeds are donated to the American Foundation for Suicide Prevention.

If you or someone you know may be contemplating suicide, call the National Suicide Prevention Lifeline at 1-800-273-8255 or by dialing 988. You may also text HOME to 741741 to reach the Crisis Text Line. In emergencies, call 911, or seek care from a local hospital or mental health provider.
Scripture quotations marked HCSB are taken from the Holman Christian Standard Bible®, Used by Permission HCSB ©1999,2000,2002,2003,2009 Holman Bible Publishers. Holman Christian Standard Bible®, Holman CSB®, and HCSB® are federally registered trademarks of Holman Bible Publishers.