Harmony in the Church – A Path to Spiritual Growth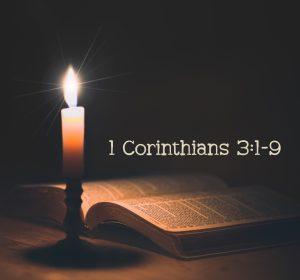 Brothers, I was not able to speak to you as spiritual people but as people of the flesh, as babies in Christ. I gave you milk to drink, not solid food, because you were not yet ready for it. In fact, you are still not ready, because you are still fleshly. For since there is envy and strife among you, are you not fleshly and living like unbelievers? For whenever someone says, "I'm with Paul," and another, "I'm with Apollos," are you not unspiritual people? What then is Apollos? And what is Paul? They are servants through whom you believed, and each has the role the Lord has given. I planted, Apollos watered, but God gave the growth. So then neither the one who plants nor the one who waters is anything, but only God who gives the growth. Now the one planting and the one watering are one in purpose, and each will receive his own reward according to his own labor. For we are God's coworkers. You are God's field, God's building. 

- 1 Corinthians 3:1-9 (HCSB)
Paul chastises the members of the Corinthian church for lacking spiritual development and for the divisiveness plaguing them. The followers allow themselves to become enamored with individual spiritual leaders, and this leads to fragmentation and a loss of focus on their connection through Christ. Paul emphasizes that God, not human figures like himself or Apollos, fosters growth. This powerful lesson teaches us all that within the community of believers, we should not elevate any single leader or member above others. We each have distinct roles, but God ultimately nurtures growth within the congregation and our personal lives. We must strive for unity and advancement, always aware of God's supreme control over everything.
Daily Life Application:
Foster unity in your church or Christian community, refraining from exalting one leader or member over another.
Recognize and respect the different roles each person plays in the body of Christ.
Always acknowledge that God gives growth, both in the church and in your personal spiritual journey.
Questions to Ponder:
How do you acknowledge God's role in causing growth in your church and in your life?
Are there ways in which you have contributed to division within your church or Christian community? How can you work towards unity?
How can you encourage spiritual maturity within your Christian community?
Continue Reading:
Ephesians 4:11-16: The role of different members in the body of Christ and the goal of attaining maturity in faith.
John 15:1-5: Jesus is the true vine and His followers as the branches, emphasizing the necessity of abiding in Him for growth and fruitfulness.
Colossians 2:19: The importance of being connected to the Head, Christ, from whom the entire body is nourished and knit together, causing growth.
;
---
If you made it this far, please consider commenting below, subscribing, and also sharing on your social media sites. Most importantly, I ask for your prayers. I write this weekly blog as an outlet in my fight against depression. However, my hope is that something I write here may help others who may be struggling. If you would like to help with my battle against depression, check out my online Etsy store. Most proceeds are donated to the American Foundation for Suicide Prevention.

If you or someone you know may be contemplating suicide, call the National Suicide Prevention Lifeline at 1-800-273-8255 or by dialing 988. You may also text HOME to 741741 to reach the Crisis Text Line. In emergencies, call 911, or seek care from a local hospital or mental health provider.
Scripture quotations marked HCSB are taken from the Holman Christian Standard Bible®, Used by Permission HCSB ©1999,2000,2002,2003,2009 Holman Bible Publishers. Holman Christian Standard Bible®, Holman CSB®, and HCSB® are federally registered trademarks of Holman Bible Publishers.