Escaping the Clique Trap in Your Church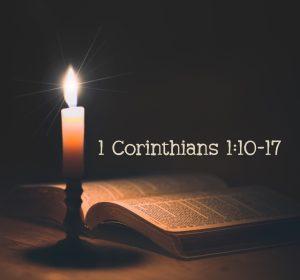 Now I urge you, brothers, in the name of our Lord Jesus Christ, that all of you agree in what you say, that there be no divisions among you, and that you be united with the same understanding and the same conviction. For it has been reported to me about you, my brothers, by members of Chloe's household, that there is rivalry among you. What I am saying is this: Each of you says, "I'm with Paul," or "I'm with Apollos," or "I'm with Cephas," or "I'm with Christ." Is Christ divided? Was it Paul who was crucified for you? Or were you baptized in Paul's name? I thank God that I baptized none of you except Crispus and Gaius, so that no one can say you were baptized in my name. I did, in fact, baptize the household of Stephanas; beyond that, I don't know if I baptized anyone else. For Christ did not send me to baptize, but to evangelize--not with clever words, so that the cross of Christ will not be emptied of its effect. 

- 1 Corinthians 1:10-17 (HCSB)
Paul is urging the believers to remain united in their faith and understanding of Christ, emphasizing that the divisions and rivalries amongst them are contrary to the unity that should be inherent in the body of Christ. He indicates a concern about cliques forming within the church, with individuals claiming to align with different leaders such as himself, Apollos, or Cephas. He challenges this by asking, "Is Christ divided?" implying that their loyalty should not be divided among different human leaders but should be focused on Christ alone.
Additionally, Paul reminds the Corinthians that he was not crucified for them and that they were not baptized in his name, but in the name of Jesus Christ. His emphasis here is on Christ's sacrifice, the heart of the Gospel, and not on any leader's particular teachings or personality. It is a powerful message against cliquishness, reminding all believers of the centrality of Christ in their faith and their shared conviction.
In his final note, Paul underlines the importance of humility and simplicity in sharing the Gospel, warning that clever words can potentially dilute the power of Christ's cross.
In essence, Paul's words in 1 Corinthians serve as a strong warning against divisiveness and an exhortation to maintain unity in faith and understanding. We should instead be focusing on the core message of the Gospel – the crucifixion and resurrection of Jesus Christ.
Daily Life Application:
Seek unity in your interactions with fellow believers, focusing on a shared faith in Christ.
Refrain from divisive words or actions that can cause discord within your church or Christian community.
Avoid falling into a cliquish mentality.
Questions to Ponder:
How can you contribute to unity in your church body?
Are there any ways in which you've allowed differences to create division among fellow believers?
Continue Reading:
Ephesians 4:1-6: Paul's appeal for unity in the body of Christ.
John 17:20-23: Jesus' prayer for the unity of all believers.
Romans 12:4-5: The analogy of the body of Christ to illustrate unity among believers.
;
---
If you made it this far, please consider commenting below, subscribing, and also sharing on your social media sites. Most importantly, I ask for your prayers. I write this weekly blog as an outlet in my fight against depression. However, my hope is that something I write here may help others who may be struggling. If you would like to help with my battle against depression, check out my online Etsy store. Most proceeds are donated to the American Foundation for Suicide Prevention.

If you or someone you know may be contemplating suicide, call the National Suicide Prevention Lifeline at 1-800-273-8255 or by dialing 988. You may also text HOME to 741741 to reach the Crisis Text Line. In emergencies, call 911, or seek care from a local hospital or mental health provider.
Scripture quotations marked HCSB are taken from the Holman Christian Standard Bible®, Used by Permission HCSB ©1999,2000,2002,2003,2009 Holman Bible Publishers. Holman Christian Standard Bible®, Holman CSB®, and HCSB® are federally registered trademarks of Holman Bible Publishers.