A Christians Reminder of Their Identity in Christ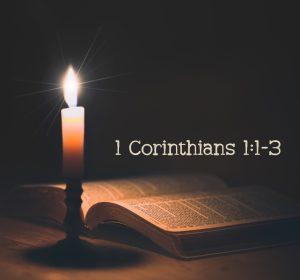 Paul, called as an apostle of Christ Jesus by God's will, and Sosthenes our brother: To God's church at Corinth, to those who are sanctified in Christ Jesus and called as saints, with all those in every place who call on the name of Jesus Christ our Lord--both their Lord and ours. Grace to you and peace from God our Father and the Lord Jesus Christ. 

- 1 Corinthians 1:1-3 (HCSB)
The opening of Paul's letter to the Corinthians is more than just a greeting; it's a reminder of our identity in Christ and the blessings we receive from God. As Christians, we are "sanctified in Christ Jesus," called to be saints, and recipients of God's grace and peace. This message wasn't just for the Corinthians; it's for "all those in every place who call on the name of Jesus Christ our Lord." That includes us, too. For those who have believed and called on His name, we are His holy people, set apart for His purposes, and blessed with His grace and peace. This is the core of our Christian identity. This truth should guide us in our daily lives and interactions with others.
Daily Life Application:
When depression weighs heavily on you, seek solace in the presence of God. Spend time in prayer and meditation, allowing His peace to permeate your heart and mind. Open up to Him about your struggles, knowing that He understands and cares deeply for you.
Start your day by reminding yourself of your identity in Christ: sanctified, called to be a saint and a recipient of God's grace and peace.
As you interact with others, remember that you are called to be a saint, reflecting Christ in your actions and attitudes.
Share the grace and peace you've received from God with others. It could be as simple as a kind word, a helping hand, or sharing the message of God's love and peace with someone.
Questions to Ponder:
What does it mean for you to be "sanctified in Christ Jesus" and "called to be a saint"?
How does the knowledge of your identity in Christ impact your daily life?
Who can you share God's grace and peace with today?
Continue Reading:
Ephesians 1:1-14 – Paul's introduction and blessings to the Ephesians.
Romans 1:1-7 – Paul's greeting to the Romans, emphasizes their calling and identity.
John 14:27 – Jesus' promise of peace to His followers.
;
---
If you made it this far, please consider commenting below, subscribing, and also sharing on your social media sites. Most importantly, I ask for your prayers. I write this weekly blog as an outlet in my fight against depression. However, my hope is that something I write here may help others who may be struggling. If you would like to help with my battle against depression, check out my online Etsy store. Most proceeds are donated to the American Foundation for Suicide Prevention.

If you or someone you know may be contemplating suicide, call the National Suicide Prevention Lifeline at 1-800-273-8255 or by dialing 988. You may also text HOME to 741741 to reach the Crisis Text Line. In emergencies, call 911, or seek care from a local hospital or mental health provider.
Scripture quotations marked HCSB are taken from the Holman Christian Standard Bible®, Used by Permission HCSB ©1999,2000,2002,2003,2009 Holman Bible Publishers. Holman Christian Standard Bible®, Holman CSB®, and HCSB® are federally registered trademarks of Holman Bible Publishers.